Mandi's Breast Cancer Journey, and How the Pink Partners Fund Helped
On Mandi's 40th birthday, she found a lump in her right breast.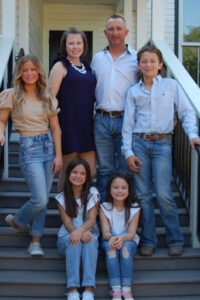 "'Was it a lymph node? Cyst? Surely it wasn't cancer, right?' I tried to remain calm, but it appeared so quickly and was large enough there wasn't a question in my mind that something wasn't right. I hadn't scheduled or had any previous mammograms. 'I was too young for this; I couldn't have cancer! I have four kids…a husband…a family that needs me.' The anxiety set in. The worry was all encompassing. Part of my panic was the fact that I knew something wasn't right and the fear of so many unknowns. The other part of my panic was that I didn't have health insurance at the time. I stay at home with our 4 children, and my husband's occupation means he often changes employers, and at this time, we didn't have consistent coverage. 'How much was this going to cost for the initial scans? How much would treatment cost if this WAS cancer?' Panic…panic!"
At her first appointment with the Ascension Providence Breast Health Center, Mandi learned about the Pink Partners Program that pays for mammograms and biopsies for women who are under or uninsured. She was approved for funding for her first mammogram, and again, when it was determined she needed a biopsy, the Pink Partners Fund was able to help.
"When I found out I was approved for assistance, it felt like an answered prayer! That was one less worry for my husband and myself."
On July 13, 2021 Mandi's world changed. She got the phone call that no one ever wants to receive; she was diagnosed with Triple Negative Stage 2B Invasive Ductal Carcinoma. After the call she knew she was in for quite the battle.
After a double mastectomy, removal of 12 lymph nodes, reconstructive surgery, 6 months of chemo, and 28 rounds of radiation, on May 18, 2022, Mandi was in remission.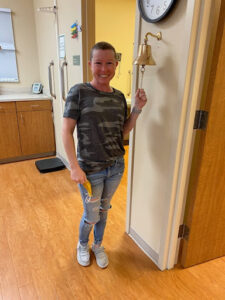 "There were no signs of cancer! We did it! And I mean WE because without the support and amazing care I received from Ascension Providence, my team of fabulous doctors, and the support I received from Pink Partners in getting a quick diagnosis, this could have been a different scenario. My family and I will forever be grateful for all of the support the foundation provided us during such a difficult and terrifying time. Being able to ease the financial burden when you are so scared of what is to come is something you cannot fully grasp until you are in need."
Through the Pink Partners Fund, we are able to live out our mission of serving all people, regardless of ability to pay.
Thank you for continuing to make stories like Mandi's possible.