Ascension Providence associate retires after 44 years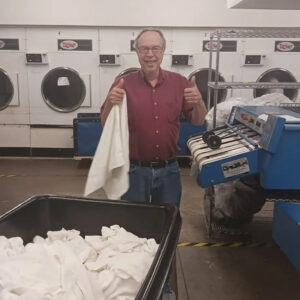 Timothy Smith came to work at Ascension Providence in 1979 as part of the hospital's laundry services department. He had lived at the Mexia State School (now known as the Mexia State Supported Living Center) for 10 years from the late 1960s to the late 1970s. During his time at the school, Timothy was a member of the Mexia State School Sunshine Singers, under the direction of Chaplain W.B. Hammond.
By 1972 the Sunshine Singers had raised $165,000 ($1.2 million in today's dollars) to build a chapel for the school. This funding resulted in the building of the All Faith Chapel, a beautiful monument to those who raised money for its construction.
In 1979 Timothy left the Mexia State School and was placed in a program for special needs individuals, enabling them to work in the community. He began a job at Ascension Providence (then known as Providence Hospital) in Waco and spent the next 44 years working there, primarily in the laundry department, before retiring.
On July 11, 2023, Timothy returned to the Mexia State Supported Living Center after 44 years to share his story of success and to encourage the residents who currently call the center home. Timothy's words of encouragement: "I left here, and you can too. You can be successful in the community."
Timothy presented the center's All Faith Chapel with two autographed vinyl records which had been recorded by the Sunshine Singers during his time at the state school. Octaviano Gallegos, his caretaker and former supervisor at Ascension Providence, said that this has been Timothy's dream for the last 44 years, to return to the Mexia State Supported Living Center and share his story.
Timothy's faith, character and work ethic are an inspiration to us all.