Because of generous donors like you, who support the life-changing and life-saving work that we do everyday at Ascension Providence, the Providence Foundation was able to provide critical grant funding through our Fall grant cycle.
We are pleased to announce that we were able to award grants to 5 departments totalling $257,832.15 for essential, state-of-the-art medical equipment! From each of the department heads, we heard how each piece of equipment will have a positive impact on our patients and their recovery outcomes. In addition, we were surprised by a visit from Dr. John Loyd, Chief of Neonatology for Dell Children's Hospital. He came to speak on the importance of the NICU Transport Isolette and the wonderful partnership between Ascension Providence and Dell Children's Hospital. We are so grateful for Dr. Loyd taking the time to come in and personally thank the Providence Foundation and its donors for support of our NICU.
We also received a wonderful surprise from our President, Philip Patterson during his hospital updates. He, along with several members of our senior leadership were in Dallas earlier in the day to learn that Ascension Providence received the 2022 Large Employer of the Year award at the Texas Workforce Commission's (TWC) 25th Annual Texas Workforce Conference held in Dallas this year. Guests at the grant ceremony were the first to learn of the honor and to see the beautiful award.
I hope you will take time to review the items funded below to see the significant impact these will have on our patients and community.
Your generosity is key to making this possible; thank you for caring for our community through your ongoing support!
Grant #1 – $89,530.00 – 1 Manometry Probe & System – Endoscopy
The manometry probe and test system senses the pressure and construction of muscles in the esophagus as you swallow. It can detect patterns of muscle activity throughout the length of the esophagus, including contractions that are too weak or too powerful. These tests can identify or rule out a narrowing, a complete blockage or an area of inflammation in a patient's esophagus.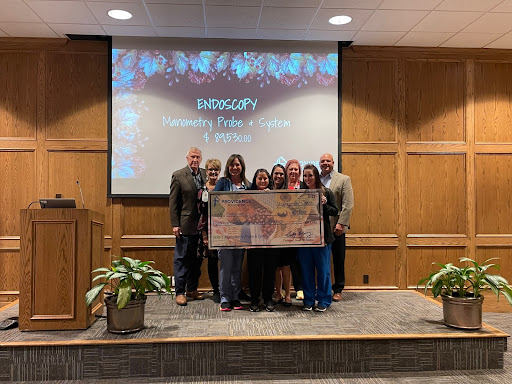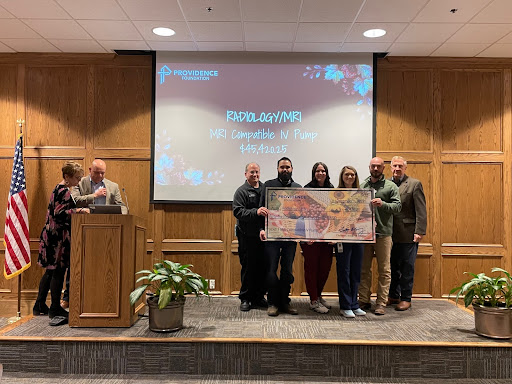 Grant #2 – $45,420.25 – 1 MRI Compatible IV Pump – Radiology/MRI
Standard IV pumps cannot go in the MRI scan room, necessitating RN staff to utilize multiple extension tubing sets in order to keep the pumps outside the magnet room. This opens the opportunity for contamination, waste of valuable medication and creation of potential fall related injuries. The MRI Compatible IV Pump will enable IV medications to be administered in the magnet room, eliminating waste and removing tripping factors.
Grant #3 – $14,500 – 1 Stryker Neptune Suction – Surgery
The Neptune is used for intraoperative high volume suction and blood/body fluid collection. They are more efficient in fluid collection, specifically in more complex cases where there is a higher volume of fluid loss and irrigation. It significantly reduces chances for staff exposure and reduces biohazard waste.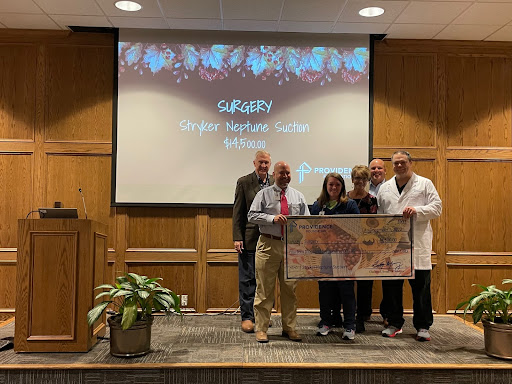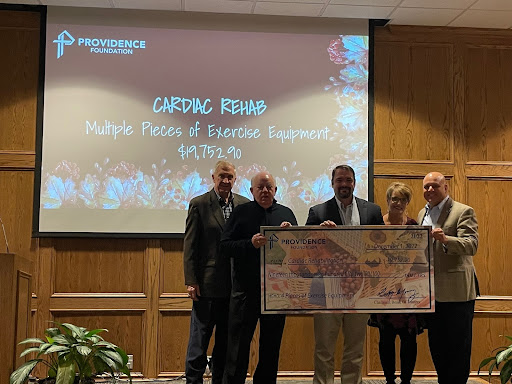 Grant #4 – $19,752.90 – 4 Pieces of Exercise Equipment – Cardiac Rehabilitation
These 4 new pieces of exercise equipment will replace end-of-life and obsolete equipment, revitalizing the Cardiopulmonary Rehab, and providing necessary departmental assets to ensure patient safety, and meet current and projected demand.
Grant #5 – $88,629.00 – 1 NICU Transport Isolette – NICU
This incubator is used by the NICU team to safely transport a neonate from the OR or Labor And Delivery to the NICU with the capability of continuous use of necessary equipment. It provides the ability to store portable gas cylinders and mount additional needed equipment, making transport of the neonate safe and easy.