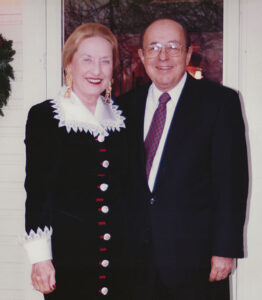 Showing kindness and compassion creates lasting impressions that impact many lives for years to come.
The late James (Jim) and Berta Hackney generously bequeathed a $500,000 endowment gift to Providence Foundation given in thanks for the loving care given to them by the doctors, nurses and staff of Ascension Providence. 
Jim passed after years of battling with heart and pulmonary disease on February 27, 2009, while Berta recently passed on November 21, 2020. 
The Hackney Family Endowment Fund has been established in memory of James L. and Berta Leon Hackney to support the needs of Ascension Providence to help ensure advanced care continues to be delivered to all patients in Central Texas.
We are humbled by the Hackney's generosity and know this gift will impact many lives for years to come. 
To make a memorial donation to the Hackney Family Endowment Fund in memory of Jim & Berta Hackney, click here.
To learn more about leaving a legacy gift in your estate plan for Providence.
Foundation, please contact Jana Whitaker at [email protected].